Plants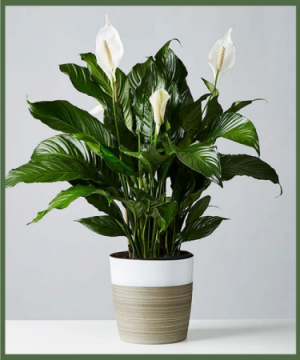 MAJESTIC PEACE LILY
BEST SELLER!
The graceful Peace Lily (spathiphyllum) plant with it's snowy white flowers is a familiar and reassuring sight in any setting. A gift of beauty that lasts. Choose container diameter 6" or 10". Plant stands 20" - 36" tall. **Container style and flowering may vary based on seasonal availability.
Phalaenopsis Orchid
NOW 25% OFF Hard to say, but easy to love. That's the striking Phalaenopsis (fah-lay-NOP-sis) orchid. Its graceful beauty adds elegance to any setting, with vibrant green leaves that complement a long, delicate stem and wing-shaped blooms. Beautifully set by our select florists in a chic glass cube planter. Planter measures 5"H x 5"D. Deluxe Orchid is arranged in a decorative 6" container and will have 2 stems.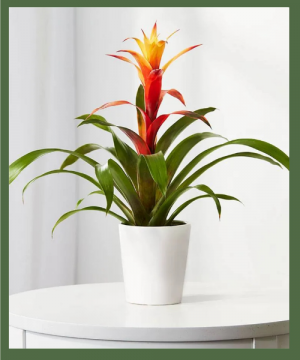 VIBRANT BROMELIAD
BRIGHT, INDIRECT SUNLIGHT IS BEST
Origin: North-west of South America and the Caribbean Bromeliad Guzmania features long, narrow, shiny green leaves and bright orange bracts; arrives blooming. Designed in a white ceramic planter Measures overall approximately 14-18"H potted Care: Cut back dead flowers to encourage new foliage to develop; mist plants regularly, or place on a pebble tray filled with water to increase humidity; good humidity and warmth will ensure lush foliage, repeat flowering, and good health; apply a bromeliad fertilizer as directed.
Plants liven up the room and are wonderfully enduring gifts that show how much you care anytime of year! Your local flower shop, Lige Green Flowers of Arlington, TX can help you choose the perfect indoor plant variety for anyone or any occasion. With just a little TLC, your gift of live plants can flourish and bring continued enjoyment year after year. Browse our selections for identification of tropical and exotic plants, including colorful Bromeliad and dramatic Dracaena, as well as traditional favorites, like the easy-to-care-for Pothos, Philodendron, etc. Send a living message today with a plant from Lige Green Flowers.